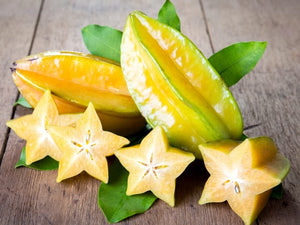 Priced per pound - Approximately 2-3 fruits depending on size.
When the carambola fruit is ripe, it is light yellow to orange in colour with slightly brown ridges. The entire fruit can be eaten seeds and all, however some people prefer to slice the the ridges (points of the star) off the fruit because some varieties contain a bit a of bitterness there. 
Carambola or star fruit is one of the most sought after fruits due to its nutrient density and antioxidant levels. Carambola fruit is an extremely low-calorie fruit that is rich in dietary fibre, vitamin A, B and C along with minerals like zinc, phosphorus, magnesium, sodium, iron and potassium among others. Moreover, it has high amounts of antioxidants like polyphenolic compounds, quercetin, gallic acid and epicatechin.